Singapore Casino Games With the Best Odds.
Playing online casino games with the best odds and highest potential payouts can be the difference between long-term success and failure. In this article, we'll reveal 5 online betting games available at casinos in Singapore that offer you the best chance of winning.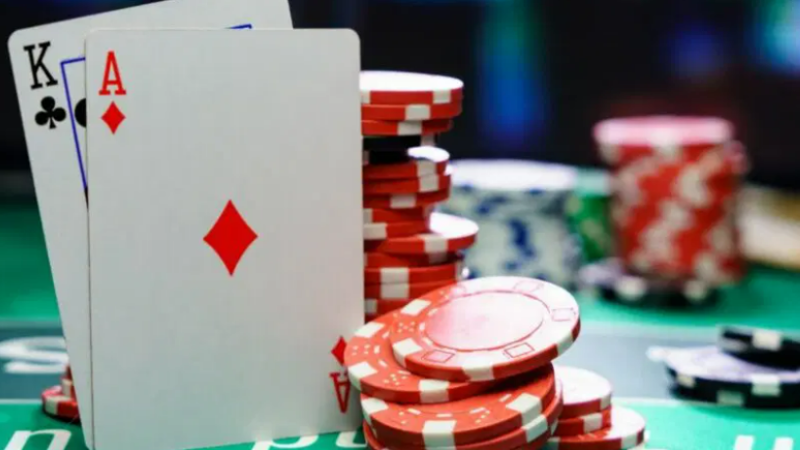 Baccarat 
This is one of the most popular games with players at live casinos in Singapore, and indeed the whole of Asia. One of the reasons for baccarat's success is the simplicity of its rules and the speed of play. However, if you choose your bet type wisely, it's also one of the casino games with the best payouts in a live casino Singapore.
One of the worst kept secrets in the world of online casinos, the Banker bet has a house edge of just 1.06%. This alone puts baccarat firmly among the top casino games with the best odds. But even betting on the Player hand is not exactly a disaster, with a similarly low edge of 1.24%.
These two bets are among the best value propositions of any online casino game. But don't assume that all baccarat bets offer similar deals. For instance, the Tie bet should be avoided at all costs, since its house edge is a massive 14.36%.
Craps 
Like baccarat, this exhilarating dice game can either be one of the best odds casino games or the worst. It all depends on your choice of bet type. So be sure to stick to the following advice to give yourself the best possible chance of winning in the long run!
The Pass and Don't Pass bets in craps have house edges of 1.41% and 1.36% respectively. Not quite as good as the aforementioned baccarat bets. But still enough to feature on any list of casino games with the best odds. Stick to these wagers though, because craps is full of terrible bets. For example, the house edge on Any 7 is a staggering 16.67%!
But there's another fantastic bet to be found in craps, that's one of the few truly fair wagers found at online casinos in Singapore. The Odds bet offers the house no edge at all, meaning the casino is not actually guaranteed a long-term profit. There is a slight catch though. To be allowed to place this bet, you must have already made a Pass or Don't Pass bet.
Video Poker
Although unquestionably one of the online casino games with the best odds, video poker has fallen out of favour in recent years. With the emergence of video slots and their stunning graphics, video poker games now feel a little dated. Then you have live casinos, with their engaging hosts and high definition streams. It's quite understandable that video poker is considered old-fashioned.
However, if you can get past the tired look and feel, video poker is a great choice. Although there are many different formats, all with subtly varying rules, most of them offer an impressively low house edge. And that means you are in with a good shout of winning real money.
For instance, your average Jacks Or Better video poker game returns at 99.54%. In other words, if you were to spend exactly SGD 100 playing, you could reasonably expect to win back SGD 99.54. So you only require a minimal amount of good fortune to turn a profit in any given session. You can visit some trusted sites for more information related to video poker. 
Roulette 
There are many different forms of roulette to be found at online casinos in Singapore. With the development of live casinos, you can find all kinds of thrilling rule variations. Lightning Roulette is a great example, with its random multipliers leading to plenty of excitement. But the classic European Roulette wheel is right up there when it comes to online casino games with the best odds.
The house edge of a European Roulette game is much lower than those using an American wheel. That's because the payouts are the same on each bet, but there is only one 0 pocket to catch you out. As such, there is not one single reason to ever play American Roulette. Its house edge of 5.26% is almost double that of the European format, at 2.70%.
In terms of individual roulette bets, your best option is to stick to the 50/50 wagers. There are three of these: Red or Black, High or Low and Odd or Even. Further, each choice has a 48.65% chance of success. So you can expect to win often, albeit these bets return a payout of just 1 to 1.
Slots
When people think about casino games with the best odds, slots don't usually spring to mind. After all, the average payout of a slot online is something around 96%, which represents a 4% house edge. As you've already seen, there are many other online casino games to be found in Singapore with much better payout rates than that.
However, don't fall into the trap of thinking all slots are the same. With a little bit of insider knowledge, you'll find that the top-paying slots are actually some of the very best payout casino games. The key is to search for high RTP games. Return To Player (RTP) is the technical term for a slot's payout rate.
At many online casinos in Singapore, such as BK8, it's possible to list slots by their RTP value. This allows you to quickly identify those titles with the highest theoretical payouts. Some sites offer slots with RTP rates as high as 99%! 
Best Odds Casino Games – Conclusion 
Above all, playing at online casinos in Singapore should be a fun experience. After all, gambling is a form of entertainment. But for many, the thrill of winning real money is just as important. 
If that sounds like you, it's important that you only play casino games with the best odds and payout potential. Otherwise, you'll just end up frustrated instead of having a good time. By sticking to the casino games and bet types mentioned in this guide, you're giving yourself the best possible chance of winning. 
Ready to play some of our best payout casino games? Then check out the top-rated online casino Singapore right away. Good luck!